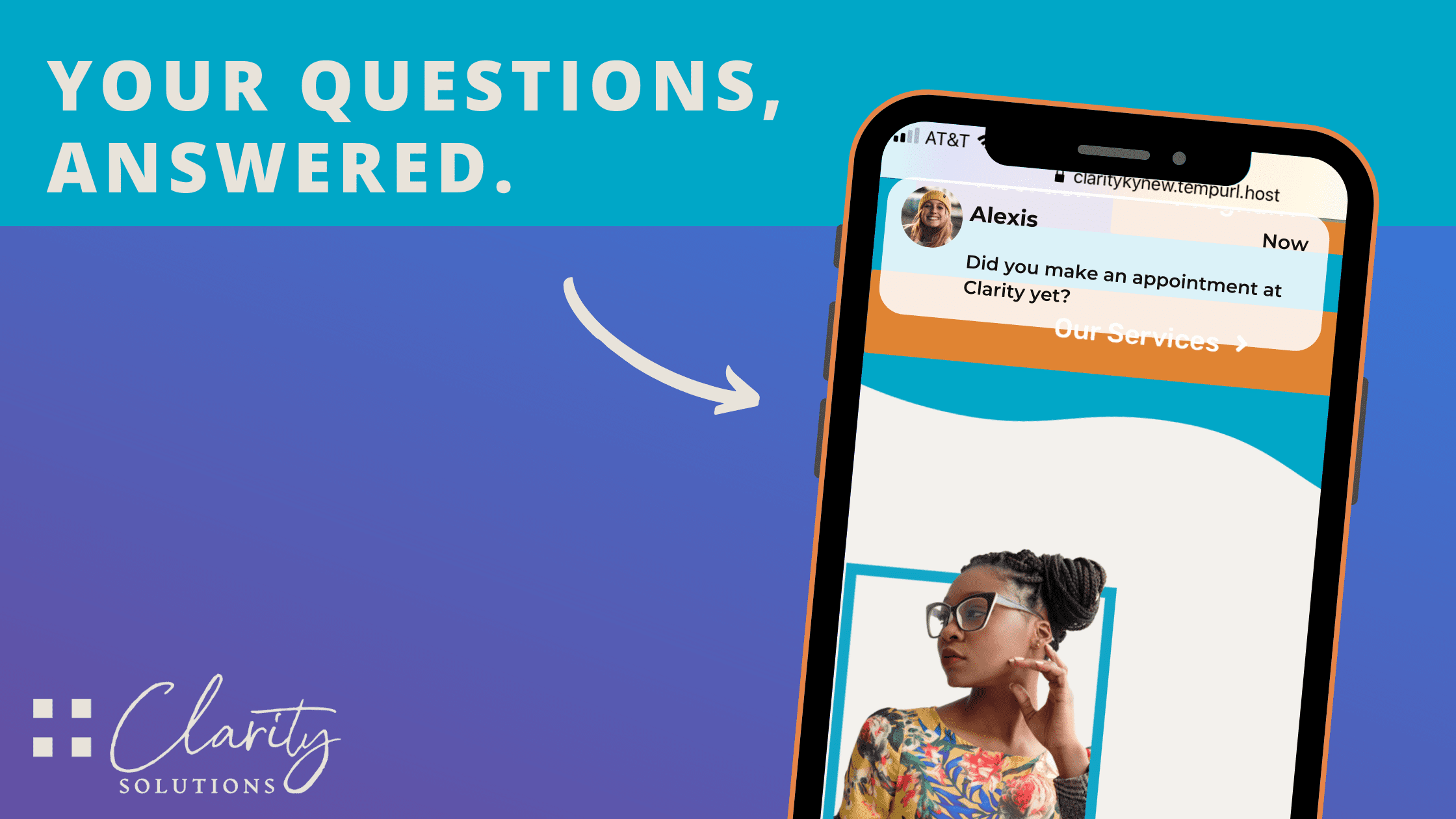 We want you to know exactly what to expect when you visit Clarity. Our nurses compiled a list of YOUR most commonly asked questions. Let's jump in!
Are you an OBGYN?

Clarity is a women's health clinic in Elizabethtown, Kentucky but we are not an OBGYN. We provide pregnancy services like pregnancy tests, ultrasounds, and information on prenatal care, abortion, and adoption to help women make the best pregnancy decision for them. If you choose to carry your pregnancy, we can refer you to a local OBGYN for ongoing care.
Can I bring someone to my appointment?

Absolutely! Support persons are welcomed and encouraged.
How much will my appointment cost? Do you take insurance?

Our services are completely free of charge. No need to worry about insurance! We love providing accessible care to all 💛
What if I am under 18?

We provide completely confidential care to all patients, regardless of age. The only one who can access your medical record is YOU. We also do not bill insurance (see above!), so no worries if you are still on family's insurance.
How far along am I?

Let's find out! We can give an educated guess based on your last menstrual period, sexual health information, and other relevant. Clarity also does early obstetrical ultrasounds, letting us know for sure the gestational age!
What if I am being abused or coerced?

Clarity is a safe space. We always take the patient back alone before their support person joins to ensure they are safe. If you are being coerced or abused, we have tools and resources to help. If you are not ready to leave your abuser, you can still receive compassionate care here.
Are your pregnancy tests based on labs or urine?

Our pregnancy tests are medical grade urine tests and administered by a nurse. They are 99% accurate and include early detection. They are free, lab-quality, and over 99% accurate. If your test is negative, we will happily bring you back for a repeat pregnancy test at no cost to you!
Do you have housing, food, diapers, (insert other resources) for me?

We are in the process of opening a maternity home for women in our community with unstable housing. We also provide a parenting program where our clients can receive court-encouraged classes, ongoing material resources, and other tools they need to succeed.
Where are you located?

Our medical clinic is located at 105 E Memorial Dr. across from Baptist Health Hardin off of Dixie Highway. Our client services building (where the program mentioned above is conducted) is at 116 E Memorial Dr. Our future maternity home will also be located on East Memorial! It is also important to note that we on Eastern Standard Time for all of our friends Southwest of us.
Wanna know more?
We would love to serve you and pride ourselves on fast, friendly, convenient appointments. Schedule your appointment now online or call us at 270-234-1122.