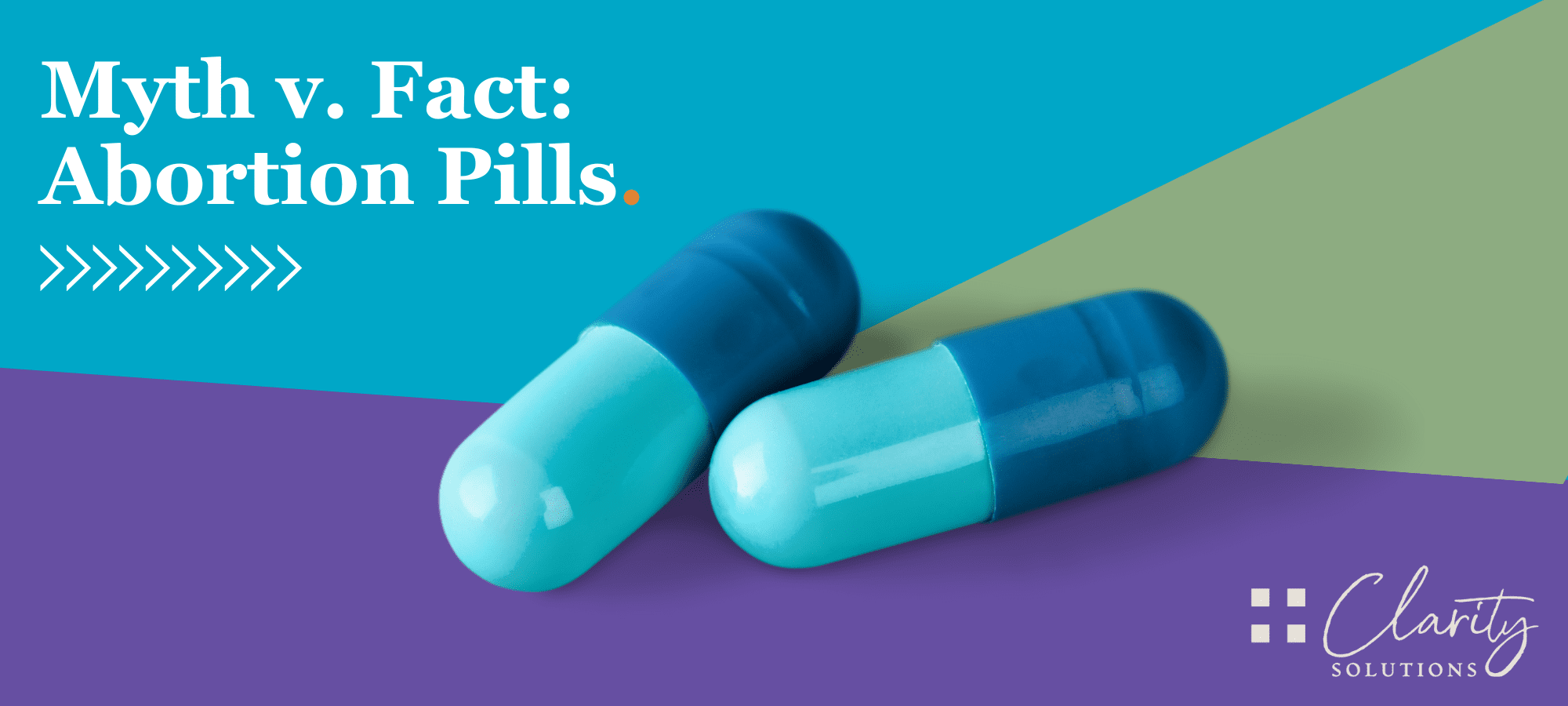 Although abortion pills can seem quick and easy, there are quite a few things to be aware of before proceeding- especially if you are thinking of ordering it online.
The abortion pill, also known as chemical or medication abortion, consists of two different drugs taken after confirming your gestational age:
Mifepristone, the first of two pills, blocks the hormone progesterone that your body naturally produces and stops the growth of the fetus.
Misoprostol is then taken to force the uterus to contract. Cramps and vaginal bleeding are common side effects of this medication as it works to expel the fetus and pregnancy tissues.
9 Facts vs Myths
MYTH: The abortion pill and emergency contraceptive are the same.
FACT: The abortion pill is not the same as emergency contraceptive (aka The Morning After Pill or Plan B One-Step). You can read more here about their differences. 
MYTH: The abortion pill is as "safe as Tylenol" and FDA approved.
FACT: Abortion pills are not FDA approved. In fact, these pills have a "black box" warning, which is the highest level of caution the FDA puts on medication. Whether ordering abortion pills online (which is dangerous) or receiving in person, sadly a follow-up appointment is typically omitted. But a follow-up appointment is necessary to rule out a failed or impartial abortion and that your body has stayed safe through the process.
MYTH: Ordering abortion pills online is a valid, private option.
FACT: Never order abortion pills online. There are reasons they are illegal in many states! There are possible unverified chemicals and unverified dosages that can lead to an incomplete abortion or life-threatening side effects. Plus, many companies that produce the abortion pills available by mail are from other countries and therefore unregulated. On top of that, ordering the abortion pill online and waiting for it to be shipped increases your risk of taking the abortion pill too late, making it ineffective. This causes complications or further needed procedures. Keep in mind that any abortion procedure has no impact on an ectopic pregnancy- a delay in getting help for an ectopic pregnancy can be devastating to the health and well-being of a woman. At-home abortions bypass so many critical steps at the cost of your health.
MYTH: I can take the abortion pill anytime in the first trimester.
FACT: Abortion pills are usually taken between 4-6 weeks but can be taken up to 70 days after your last known period. The most accurate way you can find out how far along you are is through an early obstetrical ultrasound. Those are free during our pre-abortion appointments!
MYTH: Once you take the first abortion pill, you must take the second.
FACT: Abortion Pill Reversal is possible if action is taken soon after the first dose! Neither the standard abortion pill nor progesterone is associated with birth defects.
MYTH: The abortion pill causes bleeding just like a period.
FACT: A period is a natural process your body goes through to prepare for a pregnancy while the abortion pill is taken to end a pregnancy. Taking the abortion pill is not "getting your period back". The average bleeding with the abortion pill lasts 9-16 days, but can last more than 30 days. Side effects include large blood clots up to the size of a lemon and can include visible parts of the fetus. You can expect a process similar to a miscarriage, or with even more bleeding, clots, and cramping pending how far along you are. You may also experience nausea, vomiting, diarrhea, feeling dizzy, headaches, or hot flashes.
MYTH: I won't feel guilt if I just take a pill.
FACT: Both medical and surgical abortion procedures have potential emotional complications. Some women are surprised at their emotional response after an abortion. If you are struggling and would like to speak with someone, email thehealingjourney@clarityky.org.
MYTH: The Abortion Pill is always effective in ending a pregnancy.
FACT: A potential complication of the abortion pill is an incomplete abortion. This occurs in about 2-7% of medical abortion procedures. It is important to go for a recommended follow up visit 7-14 days after taking the abortion pill to rule out a failed or impartial abortion and that your body has stayed safe through the process.
MYTH: If I needed to see a doctor in person to take the abortion pill, then it would be required.
FACT: Ordering mail-order abortion pills without an in-person consultation skips important health screenings.  These include lab-quality pregnancy tests and ultrasounds. These screenings first confirm the pregnancy and then the age (which can affect your eligibility and safety). You can get those at Clarity for free!
---
Abortion pills are a profitable industry and therefore there is a lot of misinformation out there. If you live in Kentucky or near Elizabethtown and are looking for information about the abortion pill, come see us! You can talk to a nurse about any questions or concerns you may have and learn more about side-effects and how the abortion pill works. You can even use our free checklist here. Because each woman is unique and her situation is unique, we always recommend being educated on the help and assistance available to you before taking the abortion pill. We can help!


Sources: