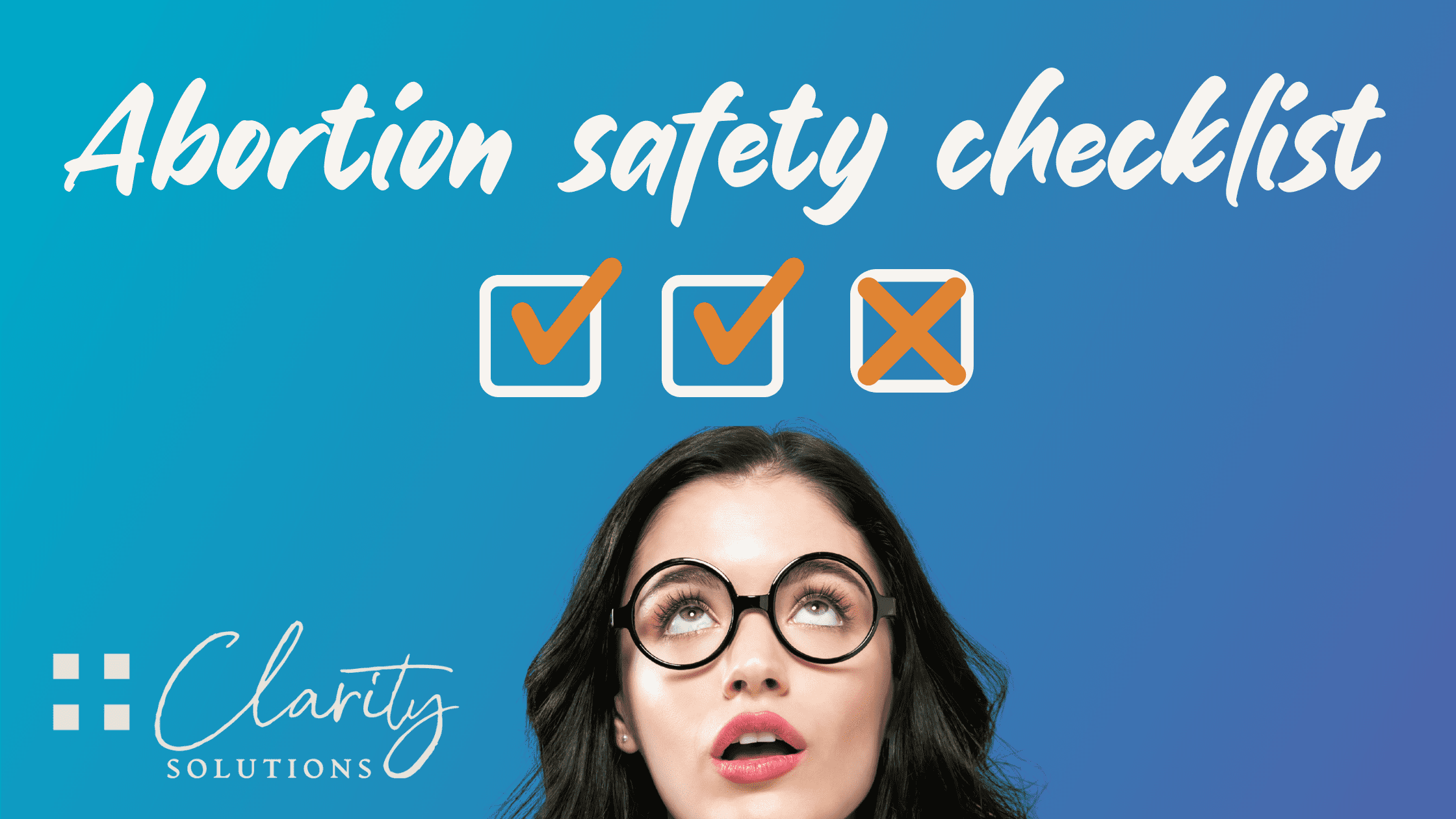 Abortion is the intentional termination of a pregnancy. As you face unexpected pregnancy, you could be researching different abortion procedures and abortion costs. At Clarity- women's health, safety, and knowledge are important to us. Use this free checklist to determine if you are safely obtaining abortion services:

I am 100% sure I am pregnant. (If you have not confirmed pregnancy with medical grade testing, you can do that here.)

I have carefully researched all abortion procedures.

I have carefully researched all the potential emotional complications that could arise due to an abortion.

The abortion clinic has shown me, in writing, that they will care for me if I experience any side effects or complications.

The abortion doctor has admitting privileges at a nearby hospital and I have been given documentation to prove this.

I have carefully researched the abortion clinic I plan to use and I am sure that they have not had any lawsuits filed against them.

I have carefully researched my abortion clinic and am aware of past hospitalizations, injuries, or malpractice documented at this clinic.

I have been screened for Rh factor and/or received a rhogam shot from the clinic.

I am aware of my body's unique health risks and ongoing development during pregnancy.

If you cannot fully complete the checklist with all marks, take some time and make sure that you have done everything necessary to adequately prepare for this procedure. A great place to start is at Clarity! We believe women can feel confident about their pregnancy decisions and should always feel supported. This is why we offer our free pre-abortion appointment and other free pregnancy services. Clarity seeks to meet the unique needs of women in our community who are interested in terminating their pregnancy but need pregnancy confirmation, early obstetrical ultrasound to date their pregnancies, or simply want more information on procedures before having an abortion. Book your free appointment today!


Sources:
https://www.law.cornell.edu/wex/abortion
https://www.athomeabortionfacts.com/abortion-health-safety-checklist/
https://www.mayoclinic.org/tests-procedures/medical-abortion/